A yellow report card containing a list of conditions being surveyed is sent every month to all respondents on the reporting base. The mailing also includes reporting instructions and, where appropriate, protocols for new studies. The reporting clinicians are asked to tick boxes against any of the reportable conditions they have seen in the preceding month, or tick the 'Nothing To Report' box if none have been seen, and return the card to (British Ophthalmological Surveillance Unit) BOSU. A detachable slip is attached to the card for the ophthalmologist to keep a convenient record of patients reported.
The BOSU notifies all case reports to the appropriate investigator, who will then contact the reporting clinician directly to request completion of a brief questionnaire.
The reporting base of approximately 1,400 Consultant Ophthalmologists, Associate Specialists and Senior Clinical Academics in Ophthalmology is regularly updated. The aim is to involve every senior doctor who may have clinical responsibility for patients with rare ophthalmological conditions. If you think you should be on the list and we are not currently sending you a monthly card please contact the unit on [email protected].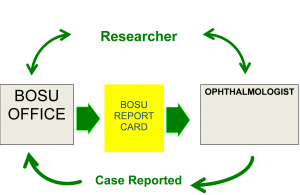 Rare disease surveillance is more than the systematic collection of data, the analysis and dissemination of that information to those who have contributed and all those who need to know remains an integral part of our mission. A newsletter is sent out every six months containing study updates and investigators are encouraged to submit their study findings for publication in a suitable journal and to present them at the College Congress.
Reports from previous studies can be found here.
Current Studies on the Yellow Card