The way that eye care services are designed and commissioned legally changed in England in July 2022. Clinical commissioning groups (CCGs) were abolished and their functions replaced by integrated care boards (ICBs) that sit within the new 42 integrated care systems (ICSs) across England.
The below diagram from The King's Fund summarises the new ICS organisational structure.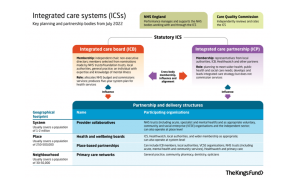 The purpose of ICSs is to deliver more integrated care, with commissioners and providers working much more closely together rather than being separated as they were with CCGs. This affords opportunities in ophthalmology to better align with optometry to design joined-up services. RCOphth has collated examples from Lancashire and South Cumbria, and the North East of England of how more integrated services can be developed through these new structures.
If clinicians would like to raise any issues relating to the commissioning of eyecare services (apart from the General Ophthalmic Services contract, which remains nationally agreed) in their area, we encourage you to contact the eye care leads in your ICS. To find out who the eye care leads in your ICS are and their email address, please contact [email protected]
If you have any questions, please contact [email protected]