The Royal College of Ophthalmologists is conveniently located at 18 Stephenson Way in Central London, a short walk from a variety of underground stations and Euston national rail station. The building has the following meeting spaces available:
Lecture Theatre
In theatre style, this space can accommodate up to 60 delegates. There are 3 HD LED screens – one 80" and two 65" – which can display a host of inputs, including HDMI/VGA/Blu-ray/Freeview/Crestron air media. There is also a Cisco HD camera allowing video/audio recording should you require this facility. You will be provided with MP4 format files to do with as you wish.
Contact [email protected] for booking enquiries.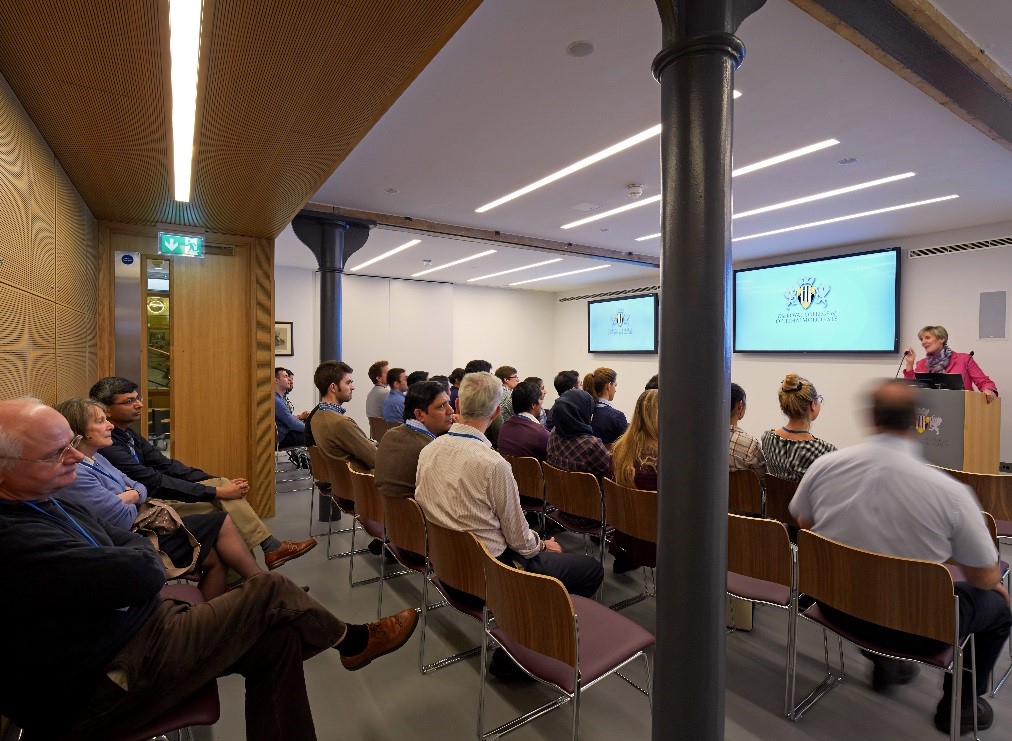 Council Room
The council room has a capacity of up to 40 people in boardroom style. It also features four strategically placed 55" LED screens for maximum viewing capabilities. It also features inputs for HDMI/VGA/Freeview/Crestron air media and also boasts a Sennheiser microphone system. The microphones are also integrated with the Cisco Video Conferencing system.
Contact [email protected] for booking enquiries.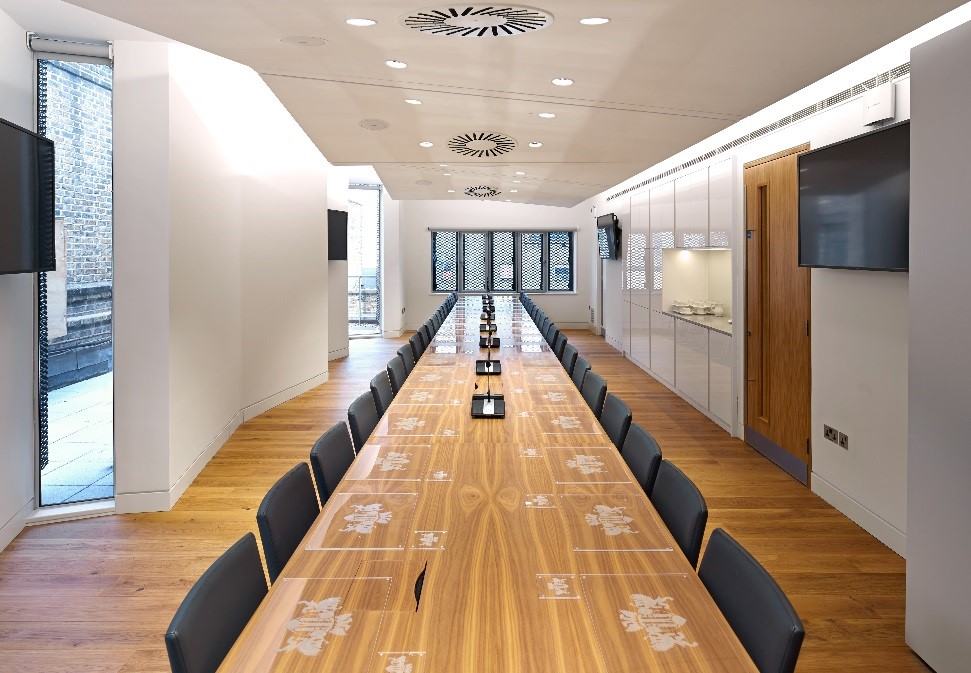 Skills Centre
The Skills Centre comprises 12 microscope workstations with facilities for microsurgical skills acquisition at all levels. Each workstation is video linked to a central teaching station and all work can be recorded/edited for teaching purposes. In addition, a further 12 suturing workstations are available for extra-ocular work.
Full facilities include Zeiss operating microscopes, a full range of microsurgical instruments and equipment for phacoemulsification. The phacoemulsifiers in the Skills Centre have the most recent specifications with capability to work at high vacuum levels with the most modern modalities of phaco delivery. The College runs courses for all sub-specialities in Ophthalmology and suitable equipment for each of these areas is available.
Contact [email protected] for booking enquiries.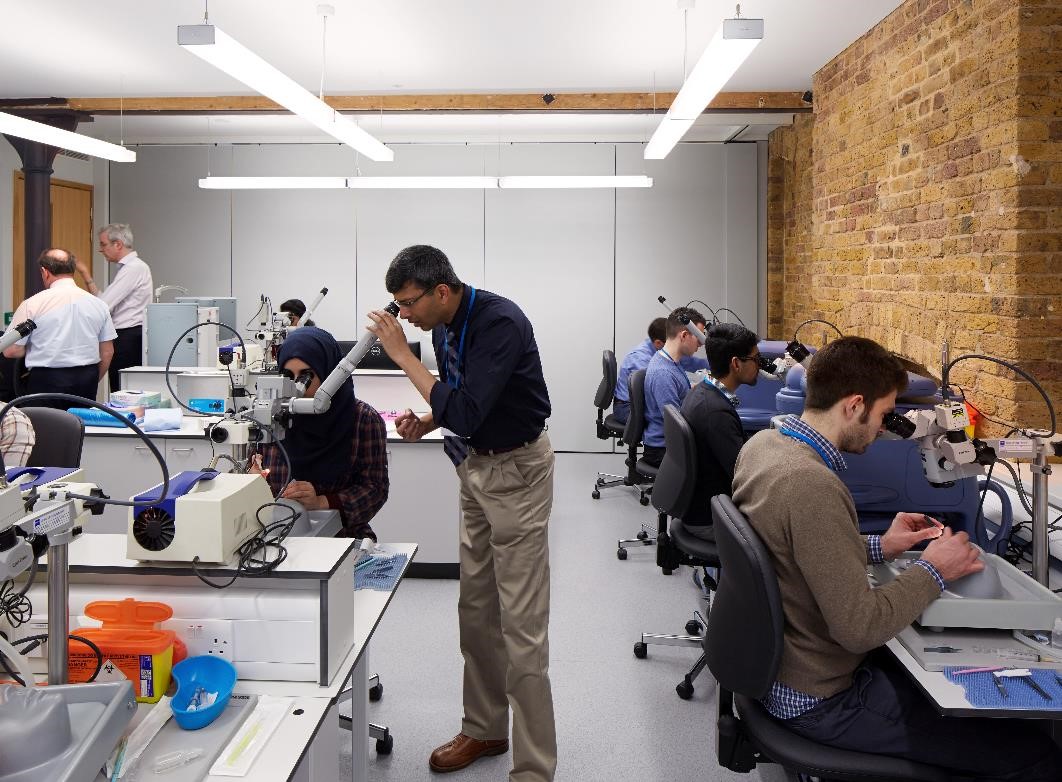 Training Room
This room is adjacent to the Skills Centre and can accommodate 12 people in boardroom style (expanded to 20 with additional seating) and features a 65" LED screen with standard HDMI and VGA inputs for external sources.
Contact [email protected] for booking enquiries.
Catering
Lunch and refreshments can be organised through the College. The menu is available on request.
Please note a labour charge of £150 may apply to your booking (this will be reduced by 50% in some cases where more than one event is taking place), but this will be confirmed at the time of booking. All costs are exclusive of VAT.
All services can be provided as part of an overall day delegate rate if the number of attendees is over 20, representing a significant saving.
The following schedule is based on a full day between the hours of 0900 and 1700. Any hire outside these times may incur additional charges. Half-day rates are available on request.
The College does not open for events at weekends.
Charges
| | | | |
| --- | --- | --- | --- |
| Room | Capacity | Day Delegate Rate | Room Hire Corporate Rate |
| Council Room | 40 | £60 | £1,300* |
| Lecture Theatre | 60 | £60 | £1,500* |
| Training Room | 12 | N/A | £600 |
| Skills Centre | 12 | N/A | £1,400 |
*A 50% discount will apply to the room hire only rate for the following groups:
UK registered charities
Ophthalmic membership groups
Ophthalmic trainees
NHS groups
Royal Colleges
The RCOphth Approach to Sustainability
The Building
The RCOphth bought the freehold of 18 Stephenson Way in 2012; the building was completely gutted and refurbished in accordance with good sustainability practices:
The green roof on top of the 4th-floor pavilion contributes to sustainable urban drainage and local biodiversity.
The wood used is from a certified sustainable source.
Many of the bricks used are reclaimed London stock.
The white goods in the kitchens have the highest possible energy rating.
Air source heat pumps have been installed; they extract heat energy from the air to provide heat and can produce cooling through a reversible system.
The building is highly insulated to minimise heating requirements, helped by new internal wall linings and replacement of single glazed windows with double-glazed units.
The windows on the office floors can be opened to provide natural ventilation.
Zip taps, rather than kettles, have been plumbed in to conserve water.
The installation of light sensors means that empty rooms are not lit.
Each floor has a recycling bin.
Operations
Committee papers are sent electronically to minimise paper use.
A high proportion of committee meetings are conducted virtually to reduce carbon footprint but it is important to retain some face-to-face meetings.
Staff
The staff come to work by public transport, by bicycle or by foot and no parking bays are provided.
The College participates in the Bike to Work scheme and has a shower to encourage cyclists and runners.